A non-profit organization established in 1994.
We develop projects that beautify, protect and keep YOUR Downtown La Crosse an inviting destination for local commerce and tourism.
Our Vision
The vision of the Foundation is to make the central business district of La Crosse the most attractive and cleanest in the U.S. This will be accomplished through the implementation of a comprehensive beautification program.
Current Project
Veterans Memorial Statue
Important Update
June 12, 2023
Thank you for your sponsorship for our upcoming Veterans' Memorial in Riverside Park!
Our spring installation was postponed due to the near record high water levels of the Mississippi River. We need the ground to be completely dried before any excavating and installation can be done. We are planning to start our construction work in July after RiverFest, with our dedication this Fall.
Your memorial brick order has been engraved and our bronze sculpture is complete. They will look amazing all together at our Veterans' Memorial in Riverside Park.
We will contact you once we have our dedication date confirmed.
Thank you for understanding.
Carol Gross
Vice President
La Crosse City Vision Foundation
Percent of Fundraising Goal Achieved

20.4%

20.4%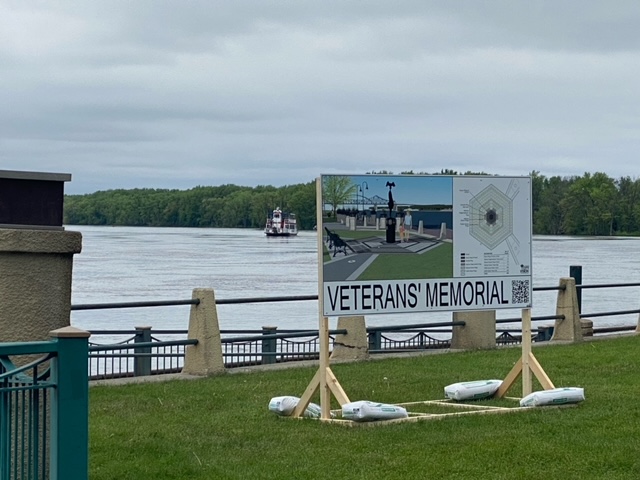 Veterans Memorial
Dedication Ceremony
Friday, November 10, 2023 at 3:00 pm in Riverside Park, La Crosse, WI.
Open to the public and area businesses!
La Crosse City Vision Foundation's newest project will be a bronze statue of an American flag and the bald eagle sculpture to be placed in Riverside Park, La Crosse, Wisconsin.
This sculpture is to honor our US military. Our US military has six branches: the Army, Navy, Air Force, Marines, Space Force and Coast Guard.
The six emblems of those branches of service will be placed around our bronze flag.
Thank you to our Veterans Memorial Statue, Ring of Honor, Sponsors.
The bronze statue of the American flag represents the original 13 Colonies with its stripes and the stars represent the 50 states of the Union.
The bald eagle has been the national bird of the United States since 1782. The bald eagle with its outspread wings is the Great Seal of our country. The fierce beauty and proud independence of this great bird aptly symbolizes the strength and freedom of America.
Our Veterans represent the freedom, dignity, and true meaning of being an American. To honor our Veterans, La Crosse City Vision Foundation will place this bronze statue with granite bricks to stand in Riverside Park for years to come.
Veterans Memorial Statue
Ring of Honor Sponsors

The Weber Group – Our mantra, "Leave this place better than we found it", helps us stay true to who we want to be—every day.

At Optum Serve, we provide the necessary health services for U.S. Military personnel, their beneficiaries and Veterans.

Pischke Motors – We are inspired to serve by our Veteran employees, customers and community and honor their service.
Patti & Jeff Lokken, Ken Riley & Jay Lokken – Veterans & their families are remembered in our lives & hearts!

Kwik Trip – To serve our customers and community more effectively than anyone else by treating our customers, co-workers and suppliers as we, personally, would like to be treated and to make a difference in someone's life.
Our Mission
Our mission is to help create a unique heritage.
A stately clock on Second Street, connecting with the community from all four directions.
A bronze statue that wistfully captures a wonderful moment of children waving to those arriving by riverboat.
And each surrounded by an attractive brick plaza proudly proclaiming the names and memories of local citizens.
Timeless projects such as these — points of interest that bring people together to share memories — is what the Foundation offers in its downtown projects.
People want a reason to remember where they have been, whether for a lifetime or for a few passing moments.
It is the mission of the Foundation to help create such memories, and it is our great pleasure to invite you to participate with us.
Please consider helping us create a unique and special heritage for the city of La Crosse and the Coulee Region. A gift to the Foundation — now or as a part of a planned gift in your estate — will make a difference for generations to come.
Jay Lokken, President
Carol Gross, Vice-President
Scott Koenen, Treasurer
Dave Wagner
Stefan Brettfeld
Mary Ann Gschwind, fspa
Pat Houlihan
Dan Howes
Jill Johnson
Michael Keil
Dick Record
Val Schute
Larry Vangen
Terry Bauer Ex officio
Make a Donation
Every penny helps. Multiple options available.